The Split Worlds series is published by Diversion Press. The first three books of the series are currently available in ebook and audio book format. The paperback editions of all three books, plus the 4th novel in the series "A Little Knowledge", will be released on August 2nd, 2016.
This series needs to be read in order, so if you haven't read Between Two Thorns, I'd recommend starting there and then coming back to this one.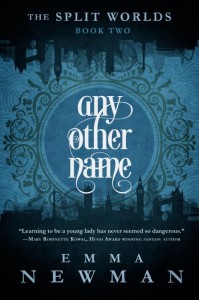 Any Other Name – Book two of the Split Worlds series
Warning: The blurb below has spoilers – especially if you haven't read Between Two Thorns yet. (If you're like me and don't want to know *anything* about a book you want to read, it has mild spoilers even if you've read the first book!)
Thought-provoking, wonderfully inventive, and filled with treachery and mystery, the soaring second book in the Split Worlds Series pulls Cathy, Will, Max, and Sam deeper into the twisted world of Fae-touched society.
Cathy has been reluctantly married into the Iris family and moves to Londinium, the magical Nether reflection of London, setting her on a collision course with the restrictive, high-pressure social circles that demand propriety and obedience, things the vocal and free-spirited Cathy cannot abide. Will, meanwhile, is trying to find a compromise for his new bride, but whispers in his ear are urging him towards dark deeds…
Sam, determined to dive back into the world of Exilium to rescue innocents, crosses paths with Cathy and Max once again as Max and the gargoyle uncover more information about the mysterious Agency and the chain of events that wiped out the Bath Chapter. Sacrifices, terrible deals, and dreadful revelations mark this second installment of Emma Newman's wondrous Split Worlds series.
Where you can buy it
Links to all the different ebook versions (US) can be found here: Amazon/Kobo/Google/iBooks etc 
UK Kindle edition  
You can pre-order the paperback here: UK Amazon | US Amazon
The audio version (narrated by me) is available from The Book Depository | BarnesandNoble.com | Audible.com
Here's what some wonderful people have said about the book:
"This book is filled with action. There are murder attempts, upheaval of patriarchal structures and plenty of threats circulating amongst the characters. The world building continues to be phenomenal and the writing is beautiful. I really can't get enough of this series."
Leah Woods, review on Uncorked Thoughts

"Another fantastic installment to The Split Worlds series, I loved book two even more than book one and think this series is definitely one to watch. The ending of the novel had me completely on edge and closed with such a big bang that I was completely in shock. I definitely didn't see some of the twists coming and the level of treachery from several of the characters is unbelievable, even from those characters I'd grown to love. This series is fantastically written, with Newman knowing just how to grab the reader's interest before delivering one hell of an emotional punch. I am excitedly awaiting book three, and luckily I won't have too long to wait."
– Rebecca, reviewing for Book Chick City

"Two books into the Split Worlds series, I think it's safe to say Emma Newman's done something that not many authors at all can do for me – get me interested in a type of story I wouldn't normally be that interested in at all. I'm referring to the decidedly un-modern aspects of these stories, the prim-and-proper alt-Victorian lifestyle that those in the Nether, the world between Mundanus (our world) and Exilium (the world of the Fae), abide by. I feel rather like a fish on a hook, here. Once again – well played, Ms Newman."
– Lisa, reviewing at Over the Effing Rainbow
More in the Split Worlds…
You can sign up for a year and a day of free weekly stories set in the Split Worlds here or you can listen to the stories on the weekly Tales From the Split Worlds podcast.
The second book in the series is called "Any Other Name"  and the third is All Is Fair. The fourth novel in the series, "A Little Knowledge" will be released on August 2nd 2016.