The Split Worlds series is published by Diversion Press. The first four books of the series are currently available in ebook and paperback format.
This series needs to be read in order, so if you haven't read Between Two Thorns, (and then Any Other Name) I'd recommend starting there and then coming back to this one.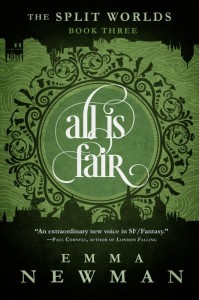 All Is Fair – Book three of the Split Worlds series
Here's a very spoilery blurb:
Caught in the insidious designs of powerful puppet-masters and playing a life-or-death game for control, Cathy and her comrades face their greatest challenge yet: changing the balance of power in the Split Worlds.
Now at the heart of the Londinium Court, deceit and murder track Will's steps as he assumes his new role as Duke. Faced with threats to his throne and his life, the consequences of his bloody actions are already coming back to haunt him…
Meanwhile, Cathy, wrestling with the constraints of the Agency and Dame Iris, comes to terms with her new status in Fae-touched society and seeks others who feel just as restricted by its outdated social rules. As Max works with Cathy to uncover the horrors that underpin Fae-touched society, he bears witness as the final blow is struck against the last Sorcerers in Albion…
Darkly imaginative, vividly detailed, and genre-defying in scope, ALL IS FAIR is at once a thrilling and intellectual journey into worlds beyond sight.
Where you can buy it
Links to all the different ebook versions (US) can be found here: Amazon/Kobo/Google/iBooks etc
UK Kindle edition: UK Amazon
You can pre-order the paperback here: UK Amazon | US Amazon
The audio version is available from The Book Depository | BarnesandNoble.com | Audible.comAmazon.co.uk | Amazon.com
Here's what some wonderful people have said about the book:
"Put as simply as I can manage, this book is wonderful, whether I'm judging it on its own merits or as the capstone to a fantastic trilogy. Everything is bigger, better, more spectacular – just as you'd expect from Book Three in any trilogy – but at the same time the character development that I'd hoped for is given, and it's given incredibly well. "
Lisa, review on Over the Effing Rainbow

"There's lots of action in this one, but there's still all of the court intrigue and wonderful characterization that I've come to expect from the series, and a few very important threads are wrapped up. Don't worry, though, the ending leaves plenty of hints of things to come, and I can't wait."
– Kristin, reviewing for My Bookish Ways

" I have to say, that I truly feel 100% invested in this world and all it's characters I would love for this series to go on indefinitely. There is little more to say about this book other than it is another fabulous entry in a fabulous series that anyone who likes fantasy will truly love. "
– Timothy, reviewing at Among The Wreckage
More in the Split Worlds…
You can sign up for a year and a day of free weekly stories set in the Split Worlds here or you can listen to the stories on the weekly Tales From the Split Worlds podcast.