The Split Worlds series is published by Diversion Press. The first three books of the series are currently available in ebook and audio book format. The paperback editions of all three books, plus the 4th novel in the series "A Little Knowledge", will be released on August 2nd, 2016.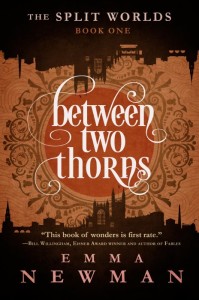 Between Two Thorns – Book One of the Split Worlds series
Beautiful and nuanced as it is dangerous, the manners of Regency and Victorian England blend into a scintillating fusion of urban fantasy and court intrigue.
Between Mundanus, the world of humans, and Exilium, the world of the Fae, lies the Nether, a mirror-world where the social structure of 19th-century England is preserved by Fae-touched families who remain loyal to their ageless masters. Born into this world is Catherine Rhoeas-Papaver, who escapes it all to live a normal life in Mundanus, free from her parents and the strictures of Fae-touched society. But now she's being dragged back to face an arranged marriage, along with all the high society trappings it entails.
Crossing paths with Cathy is Max, an Arbiter of the Split Worlds treaty with a dislocated soul who polices the boundaries between the worlds, keeping innocents safe from the Fae. After a spree of kidnappings and the murder of his fellow Arbiters, Max is forced to enlist Cathy's help in unravelling a high-profile disappearance within the Nether. Getting involved in the machinations of the Fae, however, may prove fatal to all involved.
Where you can buy it
Links to all the different ebook versions (US) can be found here: Amazon/Kobo/Google/iBooks etc 
UK kindle edition
You can pre-order the paperback here: UK Amazon | US Amazon 
The audio version (narrated by me) is available from The Book Depository | BarnesandNoble.com | Audible.com
Here's what some wonderful people have said about the book:
"Emma Newman has built a modern fantasy world with such élan and authority
her ideas of why and how the seemingly irrational world of Fairy works
should be stolen by every other writer in the field. Her characters are
complex and troubled, courageous at times and foolhardy.
This book of wonders is first rate."
Bill Willingham, Eisner Award winner, and creator of Fables

"Emma Newman has created a reflection of Bath that reminds one that charming is not safe. Between Two Thorns shows the darkness beneath the glamour of the social Season. Learning to be a young lady has never seemed so dangerous."
– Mary Robinette Kowal, Hugo Award winner, and author of Shades of Milk and Honey and Glamour in Glass

"With a feather-light touch, Emma Newman has crafted a very English fantasy, one brilliantly realised and quite delightful, weaving magic, mystery and parallel worlds together with ease. Newman may well be one of our brightest stars, The Split Worlds: Between Two Thorns is just the beginning of a remarkable journey."
– Adam Christopher, author of Empire State and Seven Wonders

"Between Two Thorns is magical, exciting, and clever. It manages to conjure a world that feels completely natural but also mysterious, sometimes dangerous, sometimes funny, combining several different kinds of urban fantasy into one story, and capturing a lovely sense of modern Britishness that is reminiscent of other fantastic British fantasy. I'm eagerly awaiting the sequel!"
– Fantasy Faction
More in the Split Worlds…
You can sign up for a year and a day of free weekly stories set in the Split Worlds here or you can listen to the stories on the weekly Tales From the Split Worlds podcast.
The second book in the series is called "Any Other Name"  and the third is All Is Fair. The fourth novel in the series, "A Little Knowledge" will be released on August 2nd 2016.